Description
Weller MG140 Fume extraction system with high efficiency filter.
Connection for one or two arms.This fume extractor station has a very quiet operation.
 
 Suited to many fume extraction applications such as:
Solder Fumes
Glue Vapour
Paint Vapour
Acetone Vapour
Dust Extraction
Welding Dust Extraction
 
A 3-stage Customisable Filter System allows selection of filter suited to application.

E.g. Cleanroom where no prefilter is required we offer a larger main filter.

Variable speed control and filter lifetime alarm.

 
REQUEST A DEMO   See our blog for more information & tips
Also available as a 2 arm and nozzle kit: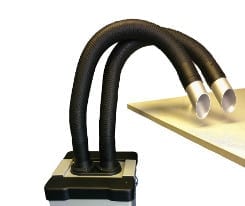 One arm kit comprises of:
Replacement Filters: