Description
Weller MG130 Fume extraction system with high efficiency filter.
Connection for one or two arms.This fume extractor station has a very quiet operation.
 
Suited to mainly solder fume extraction.
(May suit other processes)
    Filter size designed to be economical for low/medium soldering processes.

For heavy soldering and/or long shifts the MG140 is more economical.

Filter expected to last 1 year based on an 8 hour 5 day week shift.

 
A 3-stage Filter System allows selection of filter suited to application.

Variable speed control and filter lifetime alarm.

 
Also available as a 2 arm and nozzle kit: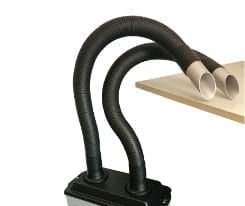 One arm kit comprises of:
Replacement Filters:
REQUEST A DEMO   See our blog for more information & tips
The MG130 was previously named 'Tiger' with Yellow and black design.
The arms, nozzles and replacement filters are the same for both the MG130 & Tiger.