Description
The KIC RPI optimises the reflow profile whilst maintaining the required through put.
All of the data can be continuously shared with the authorised personnel.
RPI Advantages
• Process Traceability for each PCB
• Reduced Production Costs
• Management Data for Reflow Quality and Throughput
• Constant Automated Relow Oven Profiling
Features
• RPI thermocouples installed down the length on each side of the Reflow Oven rail with the conveyor speed monitored to automatically measure and display the following information:
• PCB relow profile
• The Relow Profile's 'fit' to the process window
• Continuous notification displaying current production details
No. of PCBs produced – Product name and lot ID
Production date and time stamp – Oven name
• PCB process traceability (optionally by barcode)
• SPC & Cpk charts
• Statistics of defects and processyields
• Pareto chart on out of spec occurrences

RPI also includes
• Reflow Profile optimisation software
• Barcode reading software
• Remote Process Monitoring software
• Alarm Relay
• Light Bar

KIC's  PWI (process Window Index) provides a single number to score the
results of the reflow
profile simply, prediction software creates an acceptable
in spec. reflow profile.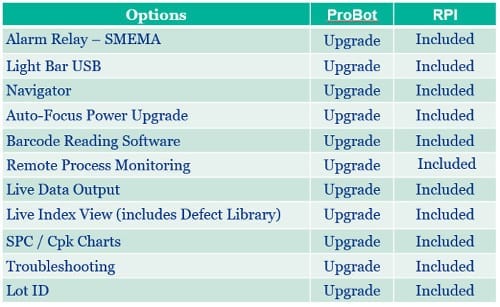 Click on ProBot or RPI to view each product page.