Description
High density label printer printer from Sato.
Best solution for PCB Identification labelling with very small 2D Data Matrix barcode printing – Prints down to our smallest standard labels (4.0mm x 4.0mm)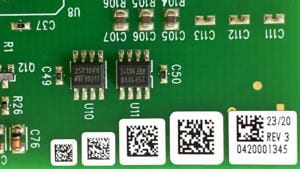 Can be used to print on our entire range of standard labels and ribbons across all applications PCB labelling, polyimide high temperature labels, solvent cleaning labelling, high durability labels, product name plates, self-laminating cable labels, paper & polypropylene packaging labels, tamper-evident & security labelling.
The first universal industrial label printer, suitable for high-volume applications
and harsh environments.
Resolution: 609 dpi (24 dots/mm)
Print speed: up to 6″ (152 mm) per second
Print method: direct thermal/thermal transfer
Print width: 4.1″ (104 mm)
Media & Ribbon Characteristics

 Media Specifications
 Ribbon Specifications
A Min
76mm
(3″)
D
25.4mm
(1″)
 A Max
 101.6mm
(4″)
 E Max
81.3mm
(3.2″)
 B Max
220mm
(8.6″)
F Min
20mm
(0.79″)
C Min
22mm
(0.87″)
F Max
110mm
(4.33″)
C Max
128mm
(5″)
Wind Direction
In or Out
 Wind Direction
 In or Out