Description
An option for the Martin Hotbeam 05 to flush mount the PCB preheater into the workbench worktop.
Although many PCB support solutions are available, soldering on a PCB raised over the PCB underheater can be awkward.
The raised PCB support can be inconvenient when performing soldering using a PCB underheater continuously as part of the production process.
The flush mount kit lowers the PCB closer to the bench creating more access for soldering.
The operator regains good posture and is soldering in a position they are used to, benefiting from the preheated PCB without a raised PCB support or the PCB underheater getting in the way, improving productivity and quality.
Low clamping PCB holders are available.  With 20mm clamping height, they complete the underheater application with the right accessories.
Hotbeam 05: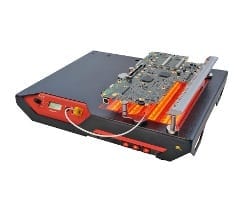 Suitable PCB Supports:
Magnet Holders H=20mm:
Support Rails H=20mm: