The APP tools are an option with Martin's 10.6 rework station.
Mounted to the side of the AVP arm the Tool Slider allows the use of the APP Tools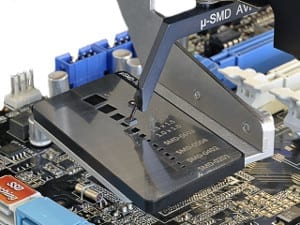 Solder Paste Print Tool
Flux Dip Tool
µSMD Tool
The Solder Paste Print Tool allows solder paste to be applied to the pads of SMD devices, typically a QFN before rework.
The solder paste is applied manually with the component mounted in the print tool using the correct stencil.
Once the solder paste has been applied the print tool is placed on the tools shuttle, the component is picked from the tool ensuring the paste is not disturbed.
The optional flux dip tool allows easy and accurate coating of the component leads for, typically for BGA rework.
Manually applying the flux is not as accurate and repeatable which could result in problems during rework.
When used with the Martin Mini oven, components can be removed, reballed or pre-bumped, flux applied and then accurately placed and soldered with the 10.6 rework station.
With all of the SMD components becoming smaller, handling the micro SMD components has become more challenging.
The optional µSMD tool is mounted in the tool shuttle which aids handling small SMD components.